TRAVEL THE WORLD...VIRTUALLY!
The Arts Council has transformed the 42nd Annual International Folk Festival, celebrating the multicultural vibrancy of Cumberland County, into an online experience. The virtual festival will premier on Facebook and YouTube. 
Streaming live, at 1 pm on Saturday, September 26!

The virtual festival will include cultural music, traditional dancing, customary garments, and much more.  Exclusively this year, the Arts Council will debut cooking segments featuring authentic recipes normally enjoyed at the International Café. Viewers will also be able to enjoy various performances by local cultural groups that have shared their heritage at the International Folk Festival for many years before COVID-19. 
"International Folk Festival has always served an opportunity to bring our diverse community together to enjoy the rich cultures that exist here," said Bob Pinson Interim President/CEO of the Arts Council. "The Arts Council recognizes IFF as an annual favorite and acknowledges the need for inclusivity and human interactions through the Arts, now more than ever."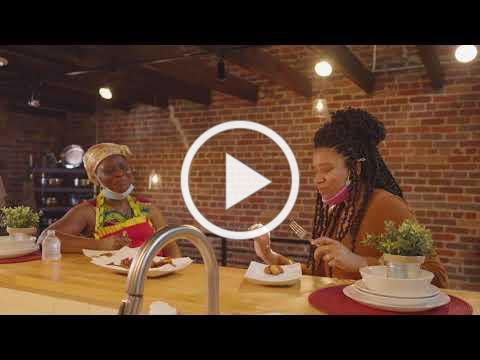 ---
Cooking Segments
Thailand - Food Segment w/Ms. PJ at PJ Thai Restaurant
(329 Person St, Fayetteville NC)
Host: Jenny Bell (Fayetteville Area Conventions and Visitors Bureau)
Dish: Green Curry over Rice, Beef Stir Fry

Ghana - Food Segment w/Chef TOWA at Cooking4Fitness
(130 Bow St, Fayetteville NC)
Host: Michele Falls (Photographer)
Dish: Fried Plantains

Belize - Food Segment w/Dorla Martinez at Cooking4Fitness
(130 Bow St, Fayetteville NC)
Host: April (Cooking4Fitness, Owner)
Dish: Traditional Belizean Potato Salad

Mexico - Food Segment w/Arturo and Candelario at La Cocina Mexican Restaurant
(Hope Mills, NC)
Host: Antonio Renteria (Arts Council) and Coco Ramirez (Mexico Cultural Group)
Dish: Tender Ribeye a la Mexicana served with rice and beans
Performances
Hawaii - Traditional Performance by Aloha Ka'naka O Hula Halau at Aunties House
Ukraine - Traditional Performance by Eugene Kobisky (Accordian) at The Arts Council
Colombia - Traditional Performance by Colombian Takiri group at Festival Park
West Africa - Traditional Performance by Mr. Raymond (Tembe Drums) at Volta Space
Ireland - St. Patrick's Traditional Set by Kelly Gallagher Irish Dance at Festival Park
Special Segments
Mexican Fashion: Quincinera, Traditional Guaoxaca, Casual Wear, Wedding Dress, Catrina Make-up (Dia de los muertos), Chapas Dresses at  ADT Cosmetology Academy w/host Coco Ramirez

Virtual Argentinean DJ
DJ Heaven Knows (Electronic Tango) at Revolutionary Co-Working